---
HOW TO TAKE ALL THE PAIN OUT OF PACKING FOR PERMANENT RELOCATION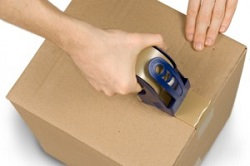 It is quite overwhelming when you think about all the materials you need to get to properly pack your entire luggage. Items range in all sizes and types. Have you ever packed up a sofa before? Have you ever had to pack up a whole set of crystal champagne glasses? Have you ever had to pack up all your crockery and kitchen appliances? Do you know the safest say to pack up a computer? Most people don't know the answer to these questions nor have they ever been faced in a situation in which they had to deal with such things. Not until they had to relocate into another home possibly in another city or country. If you are making such a permanent relocation move, you will most certainly have to deal with all of the things mentioned above. Unless of course you make the smart move of hiring Man and a Van London and purchase their packing and relocation service package. Just call at 020 8746 4384 if you are interested in more information.

If you want to gain some knowledge about all the different types of boxes and packing material that are required for such packing jobs, this article will really help you learn a lot. So let's start the discussion by first talking about boxes. We have a wide range of box varieties available in our storage. We use these professional items for the skilled packing of our customers' luggage. If you have a lot of bottles that you wish to pack we have special corrugated bottle carrier boxes that have sections to hold each bottle firmly so as to ensure that the bottles do not crash against each other during shipment thus causing cracks or breakage. For items that require folding or flat surfaces we have the special presentation boxes that are available in different colors and sizes that you can even use afterwards for storing your documents.

Packing jewelry is always very tricky because earrings and chains tend to tangle up a lot and can be a real challenge to untangle upon unpacking of your luggage. To avoid damage to your valuable jewelry we have special jewelry boxes that we use for packing your precious fashion accessories. This category of boxes also is available in different colors, sizes, and quality types. We use cardboard in these boxes that is 1000% recyclable thus making it environmentally friendly. They also come in beautiful colors and prints so that you can keep them with you for life. We have boxes separately designed for holding all your rings, for earrings, for necklaces, pendants, and everything else. The interior of these boxes is luxuriously lined with beautiful white satin to keep your jewelry well protected and safe from scratches. We also have boxes available with velvet lining.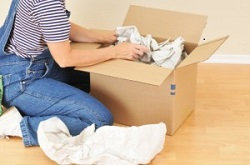 Hats are another tricky item to pack. Thus Man and a Van London has specially designed and created packing and boxes that is appropriate for carrying hats around. These hat boxes come in hexagonal shapes and in various sizes. We use corrugated board for the manufacture of these boxes and they too are lined with satin and velvet to keep your hats clean and protected.

When packing your luggage you will also need to use a lot of bags. We have a wide collection of bags available in varying materials and sizes to suit all types of items. We have paper bags, colored printed bags, fabric bags, polypro clear bags, cellophane gusseted bags, organza bags, jewelry bags, and so much more. Just call us at 020 8746 4384 and we will let you know how to avail this great service of ours.